Purchase A Bottle Of NATURELO Vitamins And We'll Plant One Tree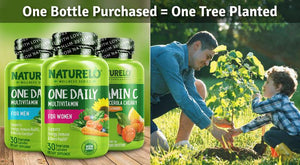 At NATURELO, one of our core values is "From Nature With Love."
To us, this means gratitude for the sources of energy, health, and well-being provided to us by nature, which we've infused into NATURELO vitamins. Now, we want to give back.
That's why we're excited to announce we've partnered with OneTreePlanted to plant a tree for every bottle of select NATURELO vitamins purchased. Our goal is to plant 100,000 trees this year -- but we can't do it without your help.
Here's how you can make a difference:
For each bottle of NATURELO One Daily Multivitamins (Men & Women) or Vitamin C with Acerola Cherries you purchase, one tree will be planted.
Not only will you be making a natural choice for your health, but you'll also be helping restore natural ecosystems and combating the effects of climate change.
This is truly a purchase you can feel good about.
Ready To Plant A Tree With Your Purchase?
Click the link below to visit the NATURELO shop. Purchase a bottle from our OneTreePlanted collection, and we'll take care of the rest. Together, we can make a difference.
The NATURELO Story

NATURELO was founded with the goal of creating a line of naturally-sourced multivitamins made with real, plant-based ingredients -- not synthetics. We would source our vitamins and minerals from organic fruits and vegetables whenever possible -- like Vitamin C from Acerola Cherries and Vitamin E from Sunflower Seeds.
We knew it might be difficult (and it was!), but it became our passion. That's how NATURELO was born!
We must have struck a chord with others just like us, because our whole food multivitamins quickly took off. Today, we offer a full line of over 50 nutritional supplements -- all made with clean, natural ingredients, just the way your body likes it.