5 Ways to Stay Active on Vacation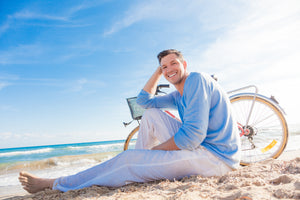 You've been cooped up all year and you're ready to get out of the house, leave behind the grind, and go have some fun. Summer vacation is all about breaking out of your normal routine, but that doesn't mean you have to let go of your exercising habits. It just means you get to explore new, creative ways to stay active, wherever you might be. In fact, if you've fallen into a sedentary habit, a summer vacation can be a great opportunity to shake off your slump and get more adventurous. Here are 5 fun ways to have an active summer vacation.
1. Explore By Foot or Bike
If you're traveling to a new destination, remember that the journey is half the fun. Take advantage of the beautiful summer weather to get out and explore the local territory on foot or by bike. Walking around town allows you to take things slow and experience the area the way the locals do. If your destination is more rural, biking is a great way to get from A to B while enjoying the local scenery. Whether you like to map out your route and hit all the tourist sites or wander without a plan and discover hidden places, make sure to pack a good set of walking shoes, wear sunscreen, and bring a water bottle. 
2. Plan an Outdoor Adventure
Nothing clears your head like getting away from civilization and immersing yourself in nature. If you love exploring the outdoors, why not build a trip around it? Take a backpacking trip and escape the world's noise somewhere deep in the wilderness. (Not used to carrying your own pack? Try a trek with llamas.) Another great way to enjoy the outdoors with family or friends is by river raft, with options ranging from a gentle float to a white water adventure. Or, if you prefer a more tropical destination, try snorkeling or scuba diving. 
3. Take a Class
For some folks, fitness doesn't happen unless it's on the schedule. If you respond best to a routine, or you feel most comfortable with a guided activity, there's no reason you can't sign up for a class while on vacation. Many hotels have free onsite classes for popular fitness activities such as yoga, Pilates, dance, spin, or aerobics. Depending on your destination, you may also find more specialized options, from horseback riding to stand up paddleboard to guided bike tours, which allow you to explore your environment in a unique way. Do a little research and you're sure to find some fun options anywhere you go.
4. Make it Social
If the idea of fitness on vacation feels like work, choose an activity that feels like play. There are plenty of summer sports that are designed to be social and don't require a lot of experience or skill to be fun. Start up a game of beach volleyball or frisbee, take the family swimming or boogie boarding, or go hit a few rounds of golf with a friend. Use the activity as a bonding experience and don't take yourself too seriously, and watch how the hours fly by.
5. Book a Fitness Retreat
If you're looking for a unique vacation experience that lets you focus on your own wellness while immersed in a beautiful setting, a fitness retreat may be just what the doctor ordered. Fitness retreats offer a refreshing escape from normal life and a chance to reset your unhealthy habits and restore mind-body wellness. They vary widely, from spa-like retreats that combine yoga, meditation, and massage in a paradise setting to guided outdoor adventures that take you hiking in Mount Zion, trekking through wine country, or cycling through the San Juan islands. Simply choose your destination or your favorite physical activity and do a web search to find out about upcoming fitness retreats.
A vacation is an opportunity to rejuvenate your mind, body, and spirit with new experiences. Take some time to play, explore, and try something new, and you're sure to come back feeling better than when you left.