How to Stay Nourished Despite Pregnancy Morning Sickness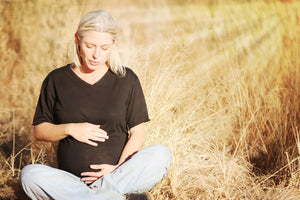 More than 50% of pregnant women experience morning sickness,1 characterized by nausea and vomiting. Morning sickness is predominantly a result of hormonal changes that occur during pregnancy, but it can also happen as a result of vitamin deficiencies, anxiety, and stress.
Dealing with morning sickness can be extremely challenging, as you can't keep food down but still need to get proper nutrition for your growing baby. Although most common in the first trimester, morning sickness can last from several weeks to several months. If you're struggling from morning sickness, here are some natural ways to keep food down and stay nourished:
Eat Smaller Meals: Never allow your stomach to be empty during the day. Take small meals every two hours and choose easily digestible snacks. Always avoid spicy, greasy, and fried foods. Too much caffeine and artificial sweeteners can also act as a trigger for vomiting.
Include Protein in Every Meal: Plant-based proteins like nuts, seeds, and lentils help keep nausea down and act as energy boosters. Foods high in protein can also help keep your blood sugar stable, a crucial factor in lowering morning sickness.
Try to Be Active: Take a walk or practice gentle stretching exercises to get relief from overactive hormones. Exercise is also a good distraction, makes you feel refreshed, improves blood circulation, and boosts energy levels.
Increase Your Vitamin B Intake: Research shows that women who take prenatal multivitamins containing vitamin B6 and other B complex vitamins are less likely to have severe morning sickness2. Studies show that vitamin B6 is helpful in reducing the frequency of morning sickness3,4. Taking B complex vitamins also helps in the healthy development of the baby during pregnancy.
Avoid Fluctuating Blood Sugar: Blood sugar swings not only lead to gestational diabetes (pregnancy-induced diabetes), it can also lead to fatigue, mood changes, and may cause morning sickness. One of the natural ways you can keep your blood sugar stable is to choose fiber and protein-rich meals instead of sugary foods. Also, make sure to include foods rich in magnesium, as it plays a vital role in keeping the blood sugar levels steady by improving insulin action5.
Morning sickness during pregnancy should not be taken lightly, as it can influence the nutrition a mother and her baby receive throughout the pregnancy. It's a good idea to take a Prenatal Multivitamin to make sure you and your baby are getting the nutrition you need.