5 Ways to Sneak Greens into Your Halloween Recipes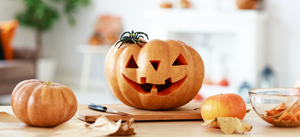 As you plan your schedule of local trunk-or-treats to hit and put pumpkins on your porch, you're probably thinking about Halloween-themed recipes to make this month. It's the season for candy corn and caramel apples, but what if you want to make the spooky season a little healthier this year? 
After all, October is just the beginning of many treat-filled celebrations throughout the rest of the year. If you're hoping to maintain a balanced diet and support your immune system during the holiday season, keep reading. We've got five creative ways to sneak greens into your Halloween recipes. 
Ghoulish Green Smoothies
Smoothies are wonderful all year long. Plus, they're versatile enough to be a bit creative during the holidays. Green smoothies are made even more appealing when they're a little ghoulish. Pack the blender with spinach and kale along with Granny Smith apple slices and tropical fruit like pineapple to balance out the green flavor. Top them off with a sprinkle of hemp seeds and a festive crazy straw for added fun.
Witch's Brew Pasta
Need a quick main dish to share this Halloween? Pasta is the way to go! Create an even greener pesto sauce by blending in some spinach before tossing it with your pasta. You can even throw some baby spinach leaves into the boiling water during the last few minutes that your pasta is cooking. Top it off with some sundried tomatoes and sliced black olives to make it extra witchy. 
Monster Mash Guacamole
Guacamole is always a hit and it's the perfect appetizer to unleash the power of avocados. You don't have to do much differently here except make a big bowl of guac and serve it with some dippers. Help meet your fruit and veggie quota by serving it with baby carrots, red bell peppers, and jicama slices. For a little extra flavor, sprinkle your guacamole with crushed red pepper and cilantro leaves.
Spine-Tingling Veggie Chips
If you have an air fryer, let's put it to use to make healthier Halloween chips this year. For example, try air-frying zucchini sticks, kale chips, and green beans. Season them how you like, perhaps with a kick of garlic powder, salt, and pepper, and serve with hummus (which could be colored with a bit of beet juice for a more festive appeal!). 
Creepy Crawly Pesto Pizza
Homemade pizza is one of the best vehicles for imagination. Transform regular pizza into a Halloween delight by adding holiday-themed toppings or arranging ingredients into a black cat or witch's broom on top of the cheese. Consider things like a hauntingly good pesto sauce or shaping the dough into a pumpkin and adding a jack-o-lantern face. 
Spook-tacular Supplemental Support
While you're at it, this is also an excellent time of year to consider adding a comprehensive supplement to your regimen. With the circulating germs and seasonal festivities, your overall health and immune system could likely benefit from a boost. Naturelo offers a long line of gummy and chewable vitamins that fit the bill. Whether you're seeking a whole foods-based multivitamin, an omega-3 DHA supplement, or something to support your sleep, like melatonin, we've got you covered. 
Have a Healthy, Happy Halloween!
Halloween is a great opportunity to try new things with your recipes, including if you're seeking healthier versions. Try the ideas above to add more greens to your dishes and help maintain a balanced diet this year. Get creative and make Halloween both fun and nutritious.
References:
NA