A Registered Dietitian's Best Tricks for Eating More Fruits and Veggies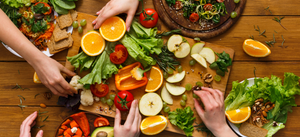 One of the best ways to improve your nutrition is to eat more fruits and veggies. The USDA Dietary Guidelines for Americans recommends adults eat 1 ½  to 2 cups of fruit and 2 to 3 cups of vegetables each day.  Naturelo's Whole Food Multivitamins include real, organic fruits and vegetables and many plant-based vitamins and minerals.
Eating a variety of fruits and veggies supplies you with vitamins, minerals, fiber, and antioxidants. Fiber is important for supporting digestive health, heart health, and a healthy weight, while antioxidants support immune health and protect cells from damage. Researchers have associated eating the recommended 5 servings of fruits and vegetables per day with a lower risk of mortality.
September happens to be National Fruit and Veggie Month, making it an excellent time to recommit to eating more produce. Here are 5 easy ways to add fruit and veggies to your day.
1. Start your day the fruit and veggie way.
Add fruit to bowls of cereal, oatmeal, yogurt, and chia pudding. You can also stir fresh fruit, like berries or chopped apples, or grated veggies, like zucchini or carrots, into pancake or waffle batter. 
Don't wait until dinner time to think about adding vegetables to your plate. Add chopped vegetables, like onions, bell peppers, tomatoes, spinach, mushrooms, and fresh herbs, to scrambled eggs, omelets, frittatas, and hash. 
If you're in a hurry, try topping a piece of toast with nut butter and mashed banana or berries, or simply grab a piece of fresh fruit to go. 
2. Sip more smoothies.
Blending produce into a smoothie is one of the easiest ways to increase your fruit and veggie intake. There are countless smoothie recipes to satisfy your tastes, whether you prefer fruity, chocolatey, nutty, or tropical. 
Mix and match fruits and veggies with milk, yogurt, nuts, seeds, cocoa powder, and/or protein powder to find your favorite combinations. Here are some ideas to get you started.
Berries, bananas, and tropical fruit, such as mango and pineapple, are popular fruits for smoothies, but you can also blend peeled citrus, apples, pears, grapes, and stone fruit. 
A handful of leafy greens, like spinach or kale, blend seamlessly into smoothies. You can also blend frozen cauliflower, sliced zucchini, steamed butternut squash or sweet potato, cucumbers, and carrots into a nutritious smoothie. 
3. Have a side salad with lunch or dinner.
A side salad can easily satisfy 1 or 2 veggie servings a day. Make your salads more colorful by choosing dark green veggies, like spinach, romaine, or kale, for your base. Then, pile on chopped tomatoes, red onion, bell peppers, shredded cabbage, carrots, cucumbers, celery, cauliflower, broccoli, or any veggies you have on hand. Besides color and nutrition, a variety of veggies add satisfying texture and crunch. 
4. Make fruit and veggies part of your favorite snacks.
Instead of replacing salty or sweet snacks, try adding fruit and veggies to your go-to snacks. Craving cheese and crackers? Add sliced apple or grapes — the natural sweetness will complement the salty cheese. 
Instead of pretzels and hummus, swap some of the pretzels for sliced cucumbers, celery, and carrots. If you're a chip and dip fan, replace dairy and cheese-based dips with guacamole.
5. Replace pasta and rice with veggies.
Try serving cauliflower rice instead of white or brown rice with stir-fries. You can also pump up the veggie content of pasta dishes by swapping veggie noodles for half or all of the traditional pasta. You can use a spiral cutter to turn zucchini or carrots into long noodles or find pre-cut veggie noodles in the refrigerated section of the produce aisle.
Takeaway
Eating more fruit and veggies is an easy way to boost nutrition and is associated with health benefits. Writing down how many servings of fruit and veggies you eat in a day can help you see where there's room for improvement. The above tips can help you add more fruit and veggies to your day to meet the recommended daily intake of produce. 
It's natural to have fluctuations in fruit and veggie intake, especially during busy seasons and travel. A quality daily multivitamin can help fill in gaps in nutrition on days when you eat less fruits and veggies than usual. Naturelo's Whole Food Multivitamins include real, organic fruits and vegetables and many plant-based vitamins and minerals.
References
U.S. Department of Agriculture and U.S. Department of Health and Human Services. Dietary Guidelines for Americans, 2020-2025. 9th Edition. December 2020. Available at DietaryGuidelines.gov. Accessed September 5, 2023.

Wang DD, Li Y, Bhupathiraju SN, et al. Fruit and Vegetable Intake and Mortality: Results From 2 Prospective Cohort Studies of US Men and Women and a Meta-Analysis of 26 Cohort Studies. Circulation. 2021;143(17):1642-1654. doi:10.1161/CIRCULATIONAHA.120.048996