The Top 5 Nutrients You Need as You Age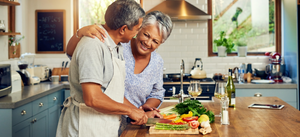 As you journey through life, your nutritional needs change over time. Aging gracefully means not only embracing the wisdom that comes with the years but also being mindful of your nutritional intake and how it can support your overall health.
Let's explore the top 5 nutrients that become increasingly important as we age, and ways to incorporate each nutrient into your daily diet. Whether you're looking to boost your energy, support cognitive function, or maintain your overall well-being, understanding these important healthy aging nutrients is a vital step toward thriving in your golden years.
Vitamin B12
Vitamin B12 is an important nutrient for supporting brain function and energy production. The Recommended Dietary Allowance (RDA) for Vitamin B12 is 2.4 mcg each day for people 51 and older, however, studies show that roughly 10% to 20% of adults over the age of 60 are deficient in this important nutrient. 1,2
While vitamin B12 can be found in a variety of animal-based foods like fish, meat, poultry, and eggs, many older adults don't have adequate amounts of stomach acid to absorb it naturally from food. As a result, the National Institutes of Health recommends that people over 50 should get most of their vitamin B12 from dietary supplements or fortified foods to help enhance their absorption. 1
Vitamin D
As we age, vitamin D becomes increasingly important. Vitamin D plays many vital roles in the body including supporting immune health and enhancing calcium absorption needed for healthy bones. 3
The RDA for adults under the age of 70 is 15 mcg (600 IU), while adults 71 years and older need 20 mcg (800 IU) each day. 3 Vitamin D deficiencies are more common in older adults compared to younger people as the body's ability to synthesize vitamin D from sunlight often diminishes with age. 
Additionally, there are very few foods that naturally contain the nutrient making it tricky to get adequate amounts through diet alone. 4 Therefore, many older adults may consider vitamin D supplementation to ensure they are meeting the RDA.
Calcium
Much like vitamin D, calcium plays an important role in keeping your bones healthy and is also involved in muscle function, nerve transmission, and hormone secretion. 5
Adults ages 19 through 50 and men until age 71 need 1,000 mg of calcium every day, while women over 50 and both men and women 71 and older will require 1,200 mg per day to ensure they are meeting their daily needs.5
Many older adults aren't consuming adequate amounts of calcium. In fact, it's estimated that over two-thirds of older adults are at risk for calcium deficiency. 6
Along with eating plenty of calcium-rich foods like dairy products, you may also consider including calcium-fortified foods like orange juice, cereal, and tofu in your diet. Additionally, there are a variety of non-dairy calcium sources to consider including green leafy vegetables, beans, and plant-based milk. However, if you're not able to meet your calcium needs through diet alone, supplementation may be an option. 
Protein
Protein is an essential nutrient needed for muscle maintenance, muscle repair, and to support physical function. Studies suggest that nearly half of people over 50 don't consume adequate amounts of protein and as a result, many have more physical limitations compared to those who eat ample amounts of the nutrient.7
While the exact protein requirement for older adults hasn't been established yet, according to current research, it is recommended that most older adults consume 1-1.2 grams of protein per kilogram of body weight to support optimal health. 8
 If you're struggling to meet your protein needs through traditional sources like meats, dairy products, and plant-based options such as beans, you may consider using a protein powder as a convenient and efficient way to boost your protein intake.
Fiber
Fiber is a type of carbohydrate that plays an important role in the health of older adults as it promotes healthy digestion while helping to avoid constipation. The recommended dietary  fiber intake is 25 grams per day for women and 38 grams per day for men.9
Unfortunately, many older adults are falling short of the current recommendations. In fact, a whopping 95% of US adults are not consuming the recommended amounts of fiber each day.9 To help meet your daily fiber needs, try adding more fiber-rich foods to your diet like fresh fruits and vegetables, beans, and whole grains.
The Bottom Line
As you can see, nutrition plays a vital role in maintaining your health and vitality as you age. It is important to consider the increased need for certain nutrients like vitamin B12, vitamin D, calcium, protein, and fiber by including nutrient-dense foods into your diet and to consider supplementation when needed. 
Remember, it's never too late to prioritize your well-being and make informed dietary choices that foster a long and healthy life.
References
Office of Dietary Supplements - Vitamin B12

. (n.d.). Accessed September 5, 2023 from:

 https://ods.od.nih.gov/factsheets/VitaminB12-Consumer/  

Nalder, L., Zheng, B., Chiandet, G. et al. Vitamin B12 and Folate Status in Cognitively Healthy Older Adults and Associations with Cognitive Performance. J Nutr Health Aging 25, 287–294 (2021). https://doi.org/10.1007/s12603-020-1489-y

Office of Dietary Supplements – Vitamin D

(n.d). Accessed September 5, 2023 from: 

https://ods.od.nih.gov/factsheets/VitaminD-Consumer/

Meehan M, Penckofer S. The Role of Vitamin D in the Aging Adult. J Aging Gerontol. 2014 Dec;2(2):60-71. doi: 10.12974/2309-6128.2014.02.02.1. PMID: 25893188; PMCID: PMC4399494.

Office of Dietary Supplements – Calcium

(n.d). Accessed September 6, 2023 from: 

https://ods.od.nih.gov/factsheets/Calcium-HealthProfessional/

ter Borg S, Verlaan S, Hemsworth J, Mijnarends DM, Schols JM, Luiking YC, de Groot LC. Micronutrient intakes and potential inadequacies of community-dwelling older adults: a systematic review. Br J Nutr. 2015 Apr 28;113(8):1195-206. doi: 10.1017/S0007114515000203. Epub 2015 Mar 30. PMID: 25822905; PMCID: PMC4531469.

Krok-Schoen, J.L., Archdeacon Price, A., Luo, M. et al. Low Dietary Protein Intakes and Associated Dietary Patterns and Functional Limitations in an Aging Population: A NHANES Analysis. J Nutr Health Aging 23, 338–347 (2019). https://doi.org/10.1007/s12603-019-1174-1

Bauer J, Biolo G, Cederholm T, et al. Evidence-based recommendations for optimal dietary protein intake in older people: a position paper from the PROT-AGE Study Group. Journal Of The American Medical Directors Association. 2013 Aug 1;14(8):542-59.

Dahl WJ, Stewart ML. Position of the Academy of Nutrition and Dietetics: Health Implications of Dietary Fiber. J Acad Nutr Diet. 2015 Nov;115(11):1861-70. doi: 10.1016/j.jand.2015.09.003. PMID: 26514720.

Dahl WJ, Stewart ML. Position of the Academy of Nutrition and Dietetics: Health Implications of Dietary Fiber. J Acad Nutr Diet. 2015 Nov;115(11):1861-70. doi: 10.1016/j.jand.2015.09.003. PMID: 26514720.