Top 5 Plant-Based Sources For Omega-3 Fatty Acids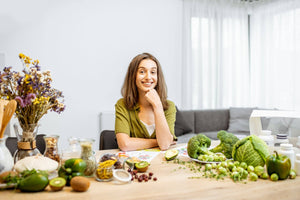 Adding more omega-3 fatty acids to your diet can provide numerous health benefits. Multiple studies show that omega-3s can help regulate inflammation, balance blood triglycerides, and protect your brain health as you age1.
Omega-3 fatty acids come from many sources, but the best known sources are from fatty fish, such as Alaskan Pollock. But did you know that you can get omega-3 fatty acids from plant-based foods too? Check out the top 5 plant sources for omega-3 fatty acids:
1. Chia Seeds
Chia seeds are full of protein and fiber. They are also a great source for ALA omega-3 fatty acids.
Thanks to the protein, fiber, and omega-3 they contain, studies have shown that they decrease the risk for chronic disease when they are part of a healthy diet.
According to one study, Chia seeds lowered glucose intolerance, inflammatory markers, and blood triglycerides

2

.
A study conducted in 2007 showed that eating Chia seeds increased the good HDL cholesterol and omega-3 blood levels while decreasing blood triglycerides

3

.
You can make a Chia seed pudding or sprinkle them on anything from yogurts, salads, and smoothies.
Vegans sometimes use ground Chia seeds as a substitute for eggs in baking. Combine 1 tablespoon with 3 tablespoons of water and it will replace one egg in your recipes.
2. Brussels Sprouts
Brussels sprouts are cruciferous vegetables and are rich in many nutrients. They contain high levels of vitamin C, K, and fiber, as well as plenty of omega-3 fatty acids.
One study found that increasing your intake of cruciferous vegetables can reduce your risk of heart disease by 16%

4

.
When Brussels sprouts are cooked, they deliver three times as much omega-3s. In 1/2 cup of cooked Brussels sprouts, you will find 135 mg of omega-3 fatty acids.
Brussels sprouts are can be served roasted, blanched, steamed, or stir-fried.
3. Algal Oil
Algal oil comes from algae and is a vegan source of both DHA and EPA.
According to some studies, algal oil is similar to seafood in its availability of both DHA and EPA

5

.
A recent study also showed that those who supplemented with a DHA algal oil compound showed an improvement in memory

6

.
4. Hemp Seeds
Hemp seeds provide your body with protein, iron, magnesium, zinc, and omega-3.
A number of studies have shown that hemp seeds can help protect heart health.

7

There is approximately 6000 mg of ALA in each ounce of hemp seeds.
You can sprinkle hemp seeds on your yogurt or mix them into a smoothie.
5. Walnuts
Walnuts have a lot of healthy fats and ALA omega-3 fatty acids. They are about 65% fat by weight.
A number of studies have shown that walnuts may help to improve brain health

8

.
In 2011, a study was conducted that showed the benefits of eating walnuts improved memory.
Significant improvements in learning, memory, motor development and anxiety were shown in another study done on patients with Alzheimer's disease

9

.
You can get more walnuts in your diet by adding them to your cereal or granola. Sprinkle them on yogurt or just grab a handful and enjoy them as a snack.
Most of these foods provide omega-3 fatty acids in the form of ALA. Your body can convert ALA into EPA and DHA, the active forms of omega-3 that your body needs. However, you should know that this conversion process is not very efficient. It can take a lot of ALA to meet your body's needs for EPA and DHA.
Algal oil is the only plant-based food we know of that provides high amounts of EPA and DHA directly. That's why our Vegan DHA supplement is sourced from algal oil. It's a great way to boost your omega-3 intake if you don't think you're getting enough from food alone. We also offer plant-based Omega + DHA Gummies that combine ALA from chia seed oil with DHA from algal oil.
References: